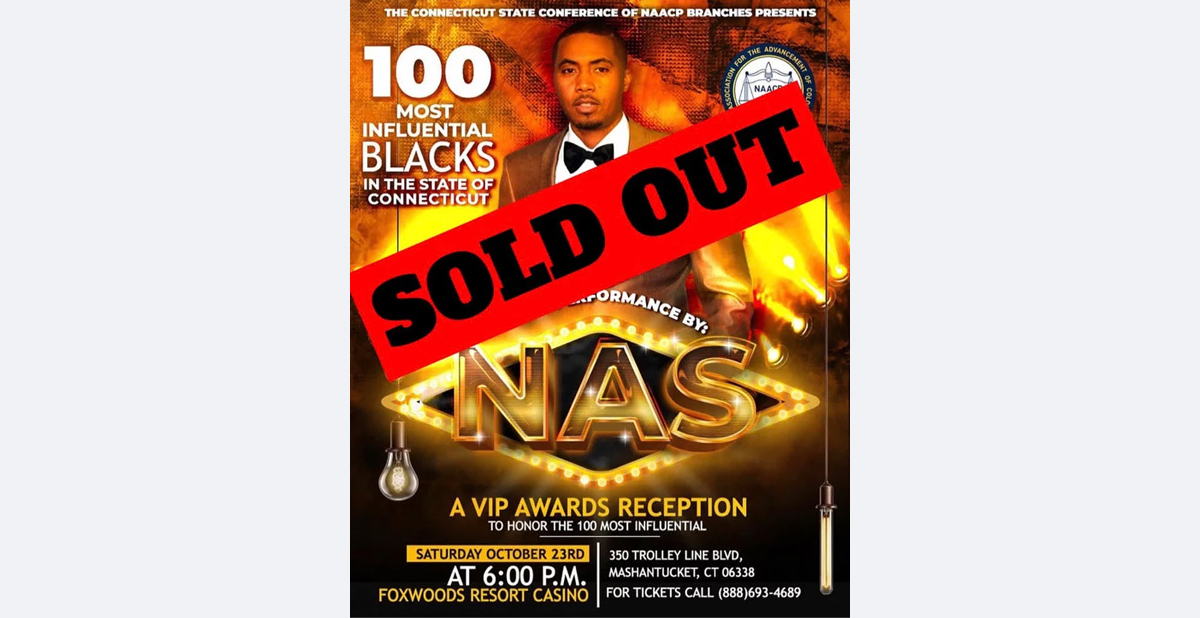 Some 14 high-ranking state officials, 16 state representatives, four state senators, 15 education executives, and six chief law enforcement officers were among those recently honored as part of the NAACP Connecticut Chapter's "100 Most Influential Blacks" awards:
2021 NAACP Most Influential Blacks
Adam Cloud, Treasurer, City of Hartford
Adrienne Parkmond, Chief Operating Officer, Workplace – Waterbury, CT
Andre F. Baker, Jr., State Representative, Bridgeport, CT
Andrea Barton Reeves, CEO, Connecticut Paid Leave Authority
Andrea Comer, Deputy Commissioner for the Department of Consumer Protection
Andrew N. Mais, Commissioner, Department of Insurance
Anthony L. Nolan, State Representative, New London, CT
Arnold Holmes, Most Worshipful Grand Master, Prince Hall Grand Lodge
Ayanti Grant, District Director, Office of the 2nd Congressional District
Ayesha Clarke, Chairman, Hartford Board of Education
Barbara Fair, Civil Rights Activist
Bobby Gibson, State Representative, Bloomfield, CT
Brandon L. McGee, Jr., State Representative, Hartford, CT
Brian M. Wright, Chief, New London Police Department
Captain Esan O. Simon, Medical Director, U.S. Coast Guard Academy
Captain Michael S. Fredie, Director of Admissions, US Coast Guard Academy
Carleton J. Giles, Chairman, Connecticut Board of Pardons and Paroles
Carlton Highsmith, Chairman of the Board, ConnCAT
Charlene Russell Tucker, Commissioner, State Department of Education
Charlie Stallworth, State Representative, Bridgeport, CT
Cheryl C. De Vonish, CEO, Norwalk Community College
Chris Cloud, Government Relations, Lobbyist
Corey P. Paris, State Representative, Stamford, CT
Curtis K. Goodwin, Community Activist
David Adamms, Executive Director, William Graustein Memorial Fund
Deborah Stanley McAulay, Chief Diversity Officer, Yale University
Derell Wilson, Chairman, Democratic Town Committee of Norwich, CT
DJ Buck, Program Director, Hot 93.7
Donald F. Harris, Jr., Chairman, Bloomfield Board of Education
Donald McAulay, Associate Deputy Director, Phi Beta Sigma Fraternity, Inc.
Douglas McCrory, State Senator, Hartford, CT
Dr. Cato T. Laurencin, CEO, The Connecticut Convergence Institute for Translation in Regenerative Engineering
Dr. Dwayne Smith, CEO, Housatonic Community College
Dr. G. Duncan Harris, CEO, Capital Community College
Dr. Iline Tracey, Superintendent, New Haven Public Schools
Dr. James Thompson, Superintendent, Bloomfield Public Schools
Dr. Jane Gates, Provost & Senior Vice President Academic & Student Affairs, Connecticut State Colleges & Universities
Dr. Karen DuBois-Walton, Executive Director, The City of New Haven Housing Authority
Dr. Keith B. Churchwell, President, Yale New Haven Hospital
Dr. Khalilah L. Brown-Dean, Associate Provost for Faculty – Quinnipiac University
Dr. Marcella Nunez-Smith, White House Task Force dedicated to Health Equity
Dr. Michael T. Conner, Superintendent, Middletown Public Schools
Dr. Miriam E. Delphin-Rittmon, U.S Assistant Secretary for Mental Health and Substance Use
Dr. Reginald J. Eadie, President & CEO, Trinity Health Of New England
Dr. Terrell Hill, Superintendent, Windsor Public Schools
Dr. Thomas G. Coley, Regional President of the Shoreline-West Region, CSCU
Dr. Tracy Y. Espy, President, Mitchell College
Dr. William "Terry" Brown, CEO, Gateway Community College
Earnest Pagan, Business Representative, North Atlantic States Council of Carpenters Union
Eboni S. Nelson, Dean and Professor of Law, UCONN Law School
Elicia Pegues Spearman , Alpha Kappa Alpha Sorority, Inc., Chair, International Leadership Fellows
Emanuel "Manny" Sanchez, State Representative, New Britain, CT
Erik Clemons , Executive Chairman, ConnCORP
Gary A. Winfield, State Senator, New Haven, CT
Glendowlyn Thames, Deputy Commissioner, Department of Economic and Community Development
Glenn Davis, Vice President, Community Development Officer at Liberty Bank
Heather Aaron, Deputy Commissioner, Department of Public Health
Hon. Clifton Graves, Judge of Probate, New Haven
Hon. Flemming Norcott , Chairman, Community Foundation of Greater New Haven
Hon. Richard A. Robinson, Chief Justice, CT State Supreme Court
Howard K. Hill, Chairman, Chamber of Commerce New Haven, CT
Jahana Hayes, U.S Representative, 5th Congressional District
Jay Williams , Director, Hartford Foundation for Public Giving
John A. Alston, Jr., Chief, New Haven Fire Department
Joshua M. Hall, State Representative, Hartford, CT
Juanita James, President & CEO, Fairfield County's Community Foundation
Kenny A. Howell, Assistant Police Chief, Hartford Police Department
Larry B. Butler, State Representative, Waterbury, CT
Malcolm Ellis, Global Director, Technology and Strategy, DIAGEO
Marilyn V. Moore, State Senator, Bridgeport, CT
Melissa McCaw, Secretary, Connecticut Office of Policy and Management
Michael Bradford, Vice Provost for Faculty, Staff, and Student Development at UCONN
Michael Jefferson, Esq., Civil Rights Attorney
Michael R. Taylor, CEO, Cornell Scott Hill Health Center
Nicholas Fortson, President & CEO, CorePlus Credit Union
Patricia "Billie" Miller, State Senator, Stamford, CT
Patrick L. Green , President & CEO, Yale New Haven Health L+M
Patrick Ridenhour, Chief, Danbury Police Department
Paul Mounds, Jr., Chief of Staff, Office of the Governor
Quentin W. Phipps, State Representative, Middletown, CT
Raghib Allie-Brennan, State Representative, Danbury, CT
Rob Simmelkjaer , Chairman, Connecticut Lottery
Robyn A. Porter, State Representative, New Haven, CT
Ronnell Higgins , Chief, Yale Police Department
Sanford I. "Sandy" Cloud Jr., Chairman, UCONN Health
Shawn Sequeira, Chief, Shelton Police Department
Shawn T. Wooden, CT State Treasurer
Shenae Draughn, Senior Vice President, The City of New Haven Housing Authority
Sibongile 'Bongi' Magubane, Commissioner, Department of Motor Vehicles
Stephanie Thomas, State Representative, Norwalk, CT
Sonda J. Thomas, Grand Worthy Matron, O.E.S, CT (PHA)
Suzette DeBeatham-Brown, Mayor, Bloomfield, CT
Tammy Exum, State Representative, West Hartford, CT
Tiffany Young, Executive Director, Hartford Yard Goats Foundation
Toni E. Walker, State Representative, New Haven, CT
Travis Simms, State Representative, Norwalk, CT
Tyisha Walker-Myers, President, New Haven Board of Alders
Vannessa Dorantes, Commissioner, Department of Children and Families
Vernon Riddick, Chief, West Hartford Police Department
Veronica T. DeLandro , State Coordinator, Delta Sigma Theta Sorority, Inc.
View the original list here (and click on the "View Recipients" button).