Global Strategy Group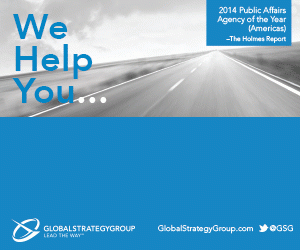 Situated in the heart of Connecticut's Capitol, members of the Global Strategy Group (GSG) team in Hartford have strong connections to state government and have served as a trusted advisor to business, government, and advocacy groups across a number of industries and issue areas. From reputation management to public policy counsel, GSG has a deep understanding of the issues, the players, and the press in the State and the New England region as a whole.
Continue Reading
Named 2014 Public Affairs Agency of the Year (Americas) by The Holmes Report, Global Strategy Group (GSG) is distinguished by our depth of talent, influential clients, and winning track record. Battle-tested in the trenches of corporate reputation management and political campaigns, we bring unrivaled commitment to every assignment.
Our culture of independence, integrity, and responsiveness established by our co-founders nearly two decades ago drives our team of nearly 100 smart, strategic, and creative professionals today. Our clients—which include Fortune 100 companies, national political leaders, associations and nonprofits—rely on GSG for candid guidance and fast, effective execution. We provide a combination of critical thinking and on-the-ground results that many other firms talk about, but few deliver.
006-Legislative and Regulatory Strategy, 0071-PUBLIC RELATIONS, 013-Polling, 014-Competitive Research, 018-Candidate Website Design, 019-Media Buying & Logistics, 020-Media Relations, 022-Crisis Communications, 023-Media Training, 028-Advocacy and Constituency Development, 029-Message Development, 030-Public Opinion Research, 031-Public Policy Consulting, 032-Polling, 033-Press & Strategy, 034-Press Conferences, 037-Digital Media Services, 038-Email Marketing, 042-Website Design, 046-Social Media, 059-Reputation Management