Sullivan & LeShane Companies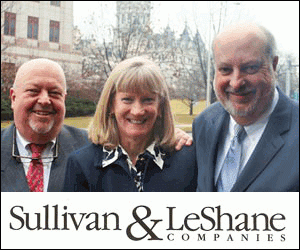 Founded in 1983, Sullivan & LeShane Companies pioneered the integration of government relations, public affairs and public relations in Connecticut and has since established itself as the most recognized full-service firm of its kind in the state.
Continue Reading
The Sullivan & LeShane companies – Sullivan & LeShane, Inc. and Sullivan & LeShane Public Relations, Inc. – are widely respected for our success in designing and executing issues-oriented government affairs, public relations, strategic and crisis communications services. On the government relations side we specialize in legislative lobbying, municipal lobbying, executive branch lobbying, economic development, grassroots campaigns and strategic assessment and plan development. On the public relations side our capabilities include executive media coaching, message development and refinement, crisis management, reputation management, proactive media relations, digital media campaigns and video production.
As one of the few organizations in Connecticut to offer integrated public affairs and strategic communications services, we are ideally configured to help companies manage complex issues and public policy matters as well as traditional government and public relations projects.
Websites: Government Relations & Public Relations
002-Executive Branch / Administrative Lobbying, 003-Legislative Lobbying, 004-Connecticut Government Relations, 006-Legislative and Regulatory Strategy, 007-Lobbying, 0071-PUBLIC RELATIONS, 014-Competitive Research, 020-Media Relations, 022-Crisis Communications, 023-Media Training, 024-Film/Video Production, 025-Speech Writer, 027-ISSUE CAMPAIGNS, 029-Message Development, 034-Press Conferences, 037-Digital Media Services, 041-INTERNET PRO, 042-Website Design, 046-Social Media, 050-ADVERTISING & MARKETING, 056-Graphic Design, 057-Writing-Editing, 059-Reputation Management