The Law Offices of David M. Moore, Esq., LLC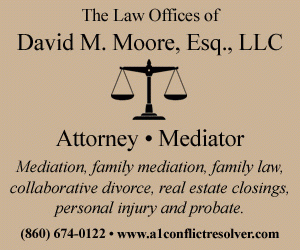 A general law practice firm with an emphasis on mediation, family mediation, collaborative divorce, family law, personal injury, real estate and probate.
Continue Reading
Attorney Dave Moore has been practicing law for over 27 years, and has been a trained mediator and collaborative divorce attorney for over 10 years. Atty. Moore has argued and won cases in all levels of the state courts and in the federal District Court in Connecticut. Atty. Moore's mediation training has proven helpful in resolving a wide range of matters, from divorce to employment separation to personal injury claims, both big and small. Atty. Moore has a "down to earth" approach, and can assist in resolving problems and issues fairly and economically.